City Opera presents MISSING
2017/10/23 (Monday)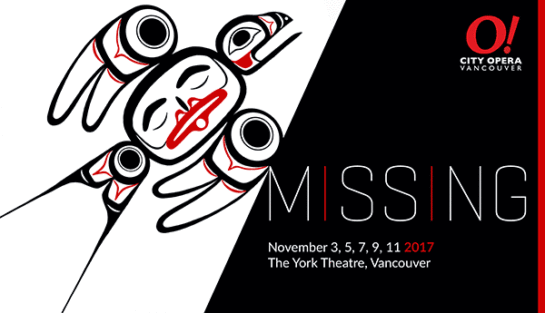 It is a story everyone knows, about a woman no one remembers.


MISSING
With libretto by Marie Clements, music by Brian Current, Gitxsan materials by Vincent Gogag (Gawa gami), directed by Peter Hinton, and produced by Janet Lea and Nora Kelly, this may be the most important work City Opera has ever done. It is a co-production with Pacific Opera Victoria, in partnership with Vancouver Moving Theatre.
Missing is set in Vancouver, and along the Highway of Tears. It is a story of two young women, one indigenous and one white, and the terrible and moving intersection of their lives. It opens in a way you might expect, and closes in a place you cannot imagine.
Missing will be performed at The York Theatre on Commercial Drive at E Georgia.
Friday 3 November / 8pm
Sunday 5 November / 2pm
Tuesday 7 November / 8pm
Thursday 9 November / 8pm
Saturday 11 November / 8pm
A special, free performance will be given in the DTES on November 1 for the families only, by invitation, in partnership with Vancouver Moving Theatre and the DTES Heart of the City Festival.
FOR TICKETS CONTACT THE CULTCH:
BY PHONE: 604.251.1363
ONLINE: thecultch.com
IN PERSON: The Cultch, Victoria x Venables
$22 / $45 / $65